CLOSE

A Florida driver in Oklahoma was forced to leave his truck in Indianapolis. Vic Ryckaert, This email address is being protected from spambots. You need JavaScript enabled to view it.
Bo Wells was sitting inside his truck at a Pilot Truck travel center in Dallas Monday, waiting for management at Celadon Group Inc. to give him instructions on where to drop off his company-owned truck.
He is one of about 4,000 Celadon Group Inc. employees who suddenly lost their jobs after the Indianapolis-based company announced Monday that it had filed for bankruptcy and was going out of business immediately.
"The shutdown has caused a lot of confusion and aggravation to say the least," Wells wrote in a Facebook message. "All employers, and including drivers, have been kept in the dark until midnight (Monday) last night &— even us out here with loads."
Celadon abruptly announced Monday that it would lay off all its employees in the United States, Canada and Mexico as the company unwinds its global operations.
A WARN notice has yet to be posted to the Indiana Department of Workforce Development website. 
The 34-year-old company and its subsidiaries filed for Chapter 11 bankruptcy in a Delaware federal court, citing approximately $427 million in assets and $391 million in debt as of Dec. 2. 
The bankruptcy comes just days after two former executives were arrested on multiple counts of conspiracy to commit wire and securities fraud and conspiracy to make false statements to Celadon accountants and falsify records.
Monday drivers in a Facebook group for Celadon truckers expressed exasperation that the company shutdown took place so close to Christmas, sought advice on how to get home and inquired about new job opportunities.
Dec. 10: Union asks UPS drivers to hold moment of silence for driver killed in shootout
Photos: These stores are closing locations in 2019
Competitors also posted messages to recruit Celadon drivers. 
Wells, who is from Mississippi, said he hasn't been able to reach to anyone, but people have offered to buy him a bus ticket home. But because his truck doubles as his home on the road, he said that option did not work for him. 
"At this time I have no idea of how I'm getting home," he explained via a Facebook message early Monday. "This is catching all of us off guard. We all have too much stuff in our trucks to carry on a bus."
Saturday Wells had a load of freight when he stopped for fuel. He had to wait several hours for the company to turn on his fuel card so he could deliver the goods to Celadon customers. Most trucks have two 100 gallon tanks, he explained, adding that fuel can cost up to $600.
Some drivers have been bracing themselves for the news.
Kevin Williams, a driver of six years, returned from Thanksgiving break last Monday when he heard rumors that Celadon would be closing. Having just moved his winter clothes into his truck, Williams spent the week checking for confirmation of the rumor online. 
"I can't really blame the people at Celadon because I don't know if they knew or not, but for it to happen so close to the holidays it's like yeah that's kind of cold," he said. 
Early Monday Williams sat at a Wytheville, Virginia, rest stop, filling out job applications with other trucking companies.
Still, Williams said he doesn't hold any animosity toward Celadon. He considered the company a good employer and wasn't nervous that he would be left stranded after turning in his truck. 
He said he thinks the company just had a run of bad luck. 
A message from Celadon delivered just after midnight Monday confirmed the bankruptcy and assured drivers that everyone who followed instructions for returning equipment would be paid for their work and miles, he said. 
Recruiters and other trucking companies have reached out to help Celadon drivers, with some offering to rent cars so drivers can get home, said Williams, an independent contractor who's been driving for Celadon for about a year. 
He will head up to Ohio to drop off a load and then to Indianapolis where he'll drop off his truck. Williams, who lives in Virginia, said another Indianapolis company had already offered him a job by 1 p.m. Monday. 
"Recruiters had been trying to get in touch with us since Saturday," he added.
Follow Alexandria Burris on Twitter: @allyburris.
The day in pictures
Posted!
A link has been posted to your Facebook feed.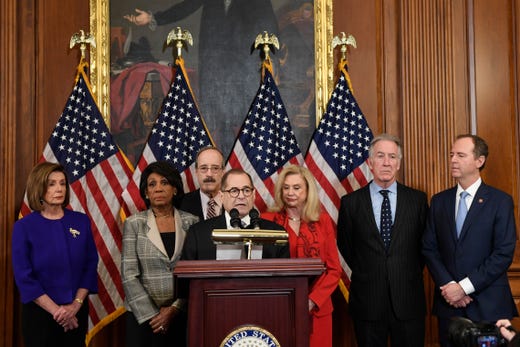 From left, House Speaker Nancy Pelosi, Chairwoman of the House Financial Services Committee Maxine Waters, D-Calif., Chairman of the House Foreign Affairs Committee Eliot Engel, D-N.Y., House Judiciary Committee Chairman Jerrold Nadler, D-N.Y., Chairwoman of the House Committee on Oversight and Reform Carolyn Maloney, D-N.Y., House Ways and Means Chairman Richard Neal and Chairman of the House Permanent Select Committee on Intelligence Adam Schiff, D-Calif., unveil articles of impeachment against President Donald Trump, during a news conference on Capitol Hill in Washington, Dec. 10, 2019.
Susan Walsh, AP
Swedish climate activist Greta Thunberg arrives to participate in the event "Unite behind the science" within the UN Climate Change Conference COP25 in Madrid, on Dec. 10, 2019.
CRISTINA QUICLER, AFP via Getty Images
Hospital staff hide behind police vehicles near the scene of a shooting at a hospital in Ostrava, Czech Republic, Dec. 10, 2019.
LUKAS KABON, EPA-EFE
Chair of the Norwegian Nobel Peace Prize committee Berit Reiss-Andersen (L) and Vice Chair Henrik Syse (R) applaud Ethiopia's Prime Minister and Nobel Peace Prize Laureate Abiy Ahmed Ali (C) during the Nobel Peace Prize ceremony at the city hall in Oslo, Norway on Dec. 10, 2019. Abiy Ahmed is picking up his Nobel Peace Prize in the Norwegian capital as ethnic violence is on the rise at home, festivities are being kept to the bare minimum and he has refused to speak to the media cancelling this years Nobel Peace Prize press conference.
FREDRIK VARFJELL, AFP via Getty Images
Algerian security surround protesters during an anti-government demonstration in the capital Algiers on Dec. 10, 2019, ahead of the presidential vote scheduled for Dec. 12. Algeria's contentious presidential election campaign is highlighting the vast gap between youth at the heart of a reformist protest movement and an aging elite they see as clinging to power.
RYAD KRAMDI, AFP via Getty Images
A rally participant wearing a Guy Fawkes mask attends a Human Rights Day rally, in Hong Kong on Dec. 10, 2019. Dec. 9 marked the sixth month anniversary of a movement that has upended the semi-autonomous Chinese hub's reputation for stability and blanketed its streets with unprecedented scenes of political violence.
PHILIP FONG, AFP via Getty Images
Murad al-Wadyah, a Palestinian youth who was previously injured in a prior demonstration, walks with a crutch past a rainwater pool near his home in Gaza City on Dec. 10, 2019.
MOHAMMED ABED, AFP via Getty Images
Protesters march during a mass strike in Marseille, France, Dec. 10, 2019. French airport employees, teachers and other workers joined nationwide strikes as unions cranked up pressure on the government to scrap upcoming changes to the country's national retirement system.
Daniel Cole, AP
A newly built Orange Line Metro Train (OLMT) takes a test-run in Lahore on Dec. 10, 2019. The metro line has 26 stations over a 27.1 km-long track which is expected to accommodate around 0.25 million passengers daily.
ARIF ALI, AFP via Getty Images
A worker scales a skyscraper to install Christmas and New Year lights in Bangkok on Dec. 10, 2019.
MLADEN ANTONOV, AFP via Getty Images
Interested in this topic? You may also want to view these photo galleries:
Last Slide
Next Slide
Read or Share this story: https://www.usatoday.com/story/money/2019/12/10/celadon-truck-drivers-seek-answers-after-sudden-company-bankruptcy/4391756002/